---
Fake Bills Might Have Come From A Plant Near Detroit
April 04, 1985 | By Elaine Bennett of The Orlando Sentinel Staff
More than $7,000 worth of bogus bills mailed to about a dozen people in Orange and Seminole counties last January have been linked to a counterfeit manufacturing plant near Detroit that was raided last month by U.S. Secret Service agents.
Agents determined this week that the counterfeit $100 bills, which were sent anonymously to the Florida residents in plain brown envelopes with no return address, contained the same serial numbers as some of the bogus bills seized March 22 at the plant in Livonia, a Detroit suburb.
When agents raided the plant, they seized about $335,000 worth of counterfeit $100 and $20 bills. They also confiscated a press used to make the bogus bills, along with counterfeit cashier's checks, Social Security cards and birth certificate forms, said Wayne Welch, special agent in charge of the Detroit Secret Service office.
Agents also arrested the owner of the plant, James William Breen, 37, of Livonia, and

Allan B. Silvarman

, 45, of Farmington, also a Detroit suburb. Both were charged with possession of and passing of counterfeit currency.
Full Article: http://articles.orlandosentinel.com/1985-04-04/news/0290030147_1_bogus-bills-counterfeit-plant-near-detroit
---
Agents: Bills In Mail Were Counterfeiter's Trick
July 03, 1985 | By Jay Hamburg of The Orlando Sentinel Staff
Secret Service agents said Tuesday they have cleared up the case of the phony $100 bills sent to at least 11 Orlando area residents in January.
Agents said the bills were mailed to shore up the defense of a Winter Park man charged with passing counterfeit money. The man claimed he received the bills by mail.
''The bills were sent to kind of throw up a smokescreen,'' Orlando special agent Don Stebbins said.
The mystery mailings started after agents arrested Richard Wayne Gibson, 58, in December on charges of passing counterfeit notes at Colonial Plaza in Orlando. Gibson later was found guilty of passing and possessing counterfeit currency. He was sentenced in March to three years in a federal prison.
His son, John Gibson, 36, pleaded guilty May 29 to the same charge. He is awaiting sentencing.
Stebbins said the mail scheme unraveled after agents in Michigan closed a counterfeiting plant near Detroit, seizing more than $335,000 in phony money. The money bore the same plate numbers as the bills mailed to Orlando residents.
Agents learned that the Gibsons had received their counterfeit bills from the plant operators, James William Breen, 37, of Livonia and

Allan B. Silvarman

, 45, of Farmington. Both are awaiting sentencing after pleading guilty to charges stemming from the case.
Full Article: http://articles.orlandosentinel.com/1985-07-03/news/0310190173_1_counterfeit-john-gibson-orlando-residents
---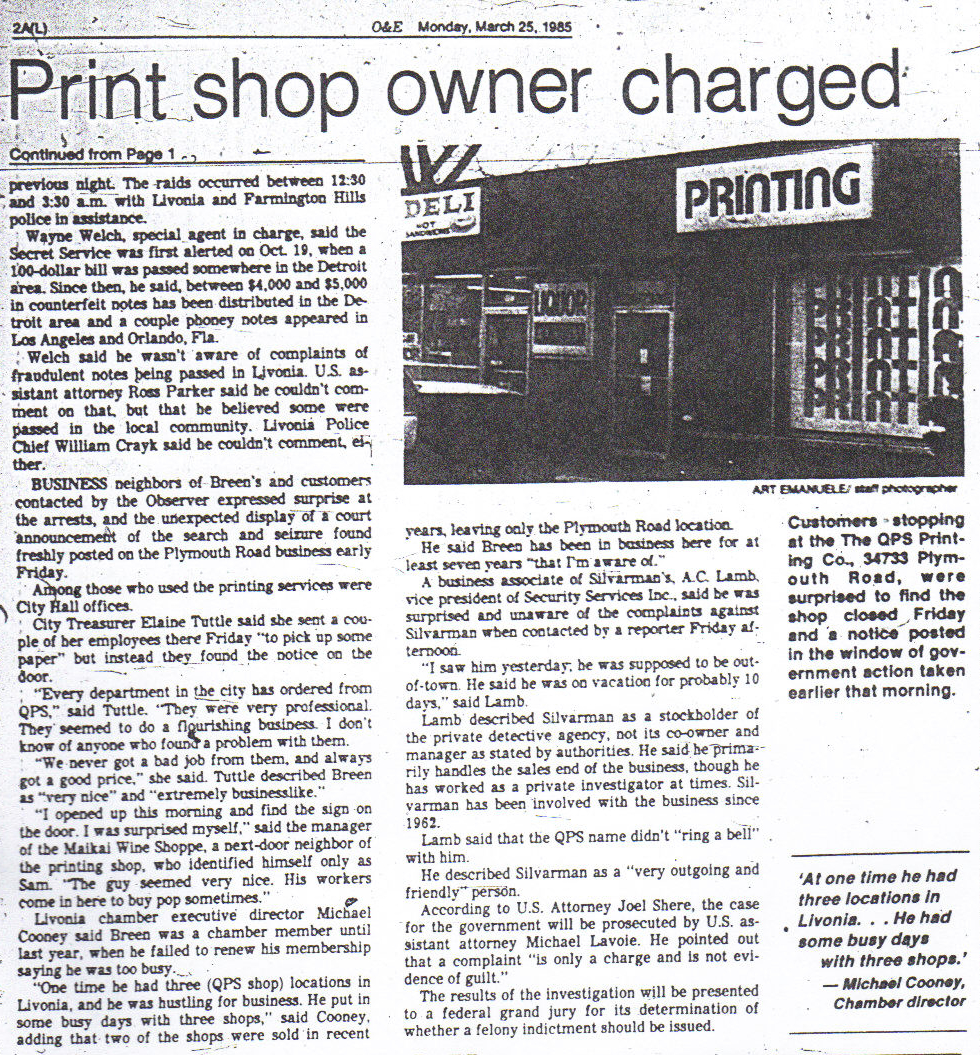 ---

TWO MEN CHARGED WITH COUNTERFEITING
BOB CAMPBELL -- Detroit Free Press Staff Writer
Saturday, 3/23/1985

The owner of a Livonia print shop and the co-owner of a Farmington security and detective agency were charged Friday with running a major Detroit area counterfeiting ring.

James Breen, 37, owner of QPS Print Shop, 34733 Plymouth Road, Livonia, and

Allan Silvarman

, 45, co-owner of Security Services in Farmington, were arrested early Friday at Breen's home, said Wayne Welch, special agent in charge of the U.S. Secret Service office in Detroit.

Breen and Silvarman, who appeared Friday before U.S. Magistrate Lynn Hooe Jr., were charged with passing and possessing counterfeit currency, which is punishable by up to 15 years in prison and a fine of $5,000. Breen was ordered held on $50,000 bond and Silvarman was ordered held on $25,000 bond. Secret Service agents seized $335,000 in counterfeit $20 and $100 bills, an undetermined amount of counterfeit Comerica bank checks, phony government seals for authenticating birth certificates, a printing press and various counterfeiting supplies at Breen's home and the print shop, Welch said.

The charges stemmed from a seven-month federal investigation that also involved the Livonia and Farmington Hills police departments, according to Welch and U.S. Attorney Joel Shere.

Welch said probably no more than $5,000 of the counterfeit money is circulating in the Detroit area. Bills allegedly produced on the offset printing press have turned up in Los Angeles and Orlando, Fla., he said. The bills began appearing in the Detroit area last October, Welch said. Their major flaw, he said, is the absence of fine blue and red lines that appear on genuine notes.

Welch said about 15 offset printing plates were used for producing different "families of notes." "We've had larger cases, but this is a pretty good-sized case, " Welch said.

The Secret Service estimates $89 million in bills were counterfeited in 1984 but that all but $7.5 million were seized by government agents before they got on the street, Welch said.


---
Detroit News - March 23, 1985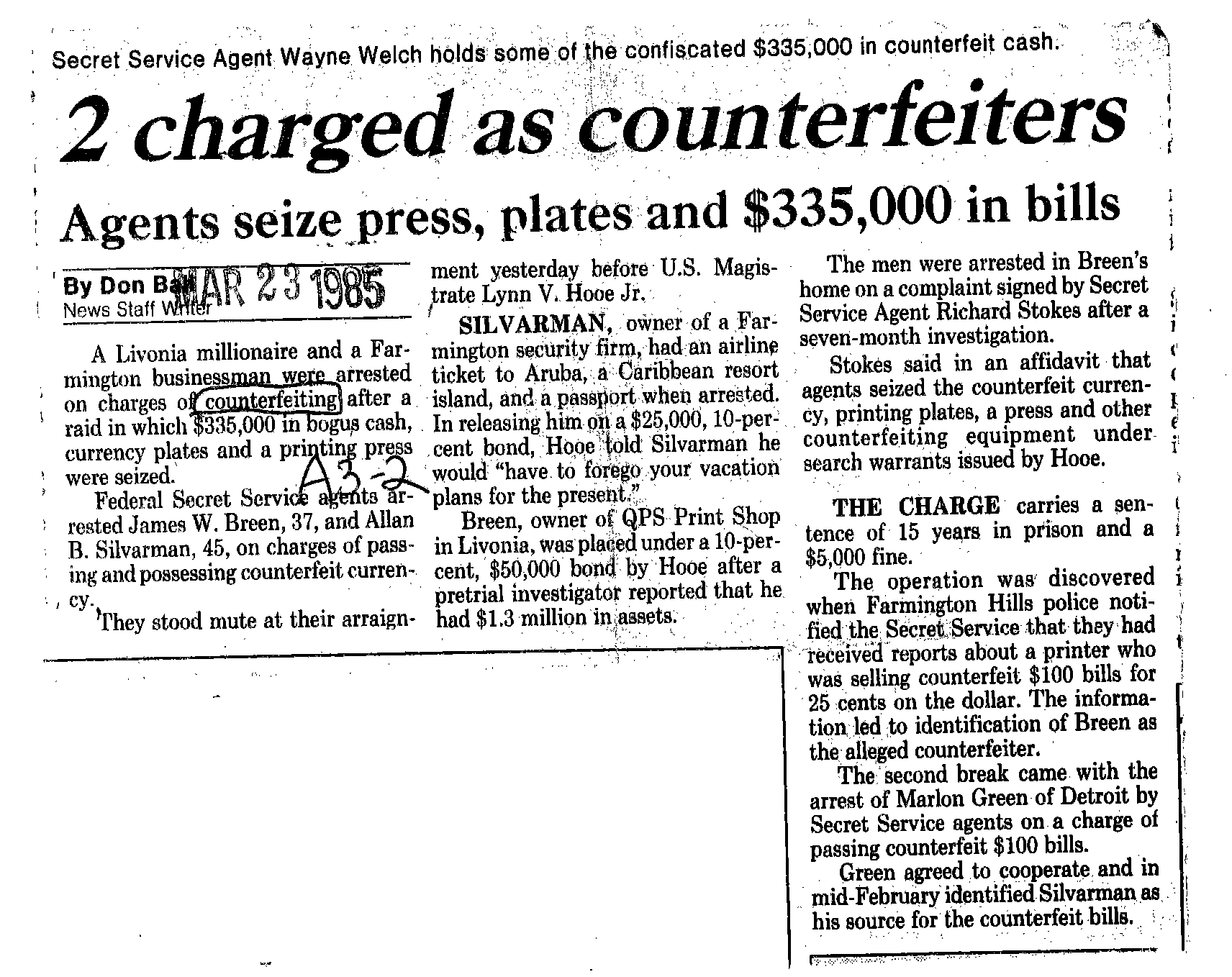 ---

Boca Raton News - July 4, 1985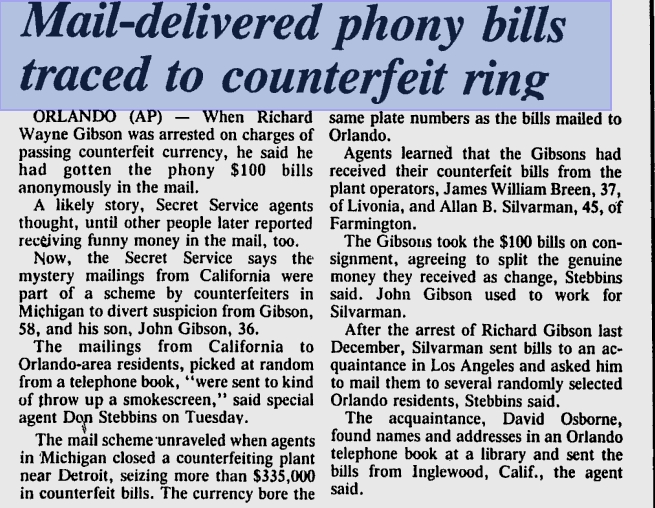 ---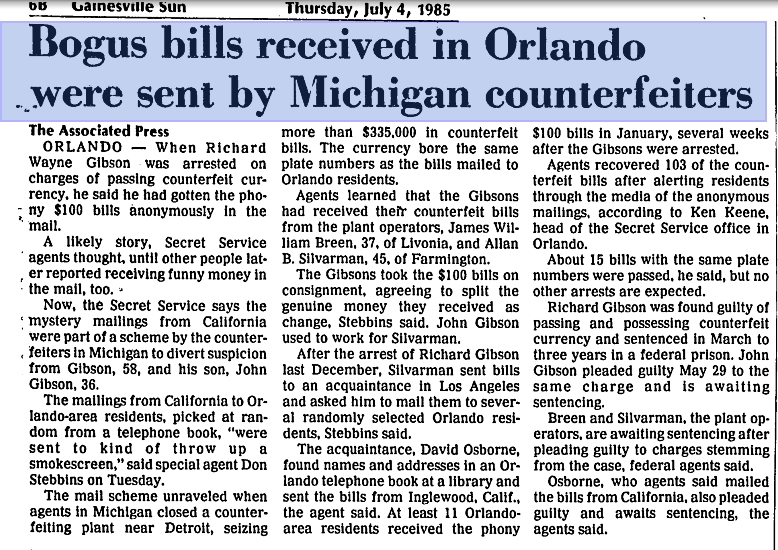 ---
Los Angeles Times

-
January 11, 1985

The Region
If you receive a packet of $100 bills in the mail from Inglewood, Calif., don't try spending it. The bills probably are counterfeit. That was the message from the U.S. Secret Service after several residents of the Orlando, Fla., area reported receiving plain brown envelopes containing from $300 to $1,500 in phony century notes. No one knows who sent them from a post office in the Los Angeles suburb or how the names and addresses of the Florida recipients were selected. Each person who reported receiving the bills noticed that the notes had the same serial number, Secret Service Agent Don Stebbins said in Orlando. "This is real bizarre," Stebbins said. "It could almost be viewed as a joke, except that if the recipients had passed the bills, knowing they were counterfeit, they could have found themselves in a lot of legal trouble."
http://articles.latimes.com/1985-01-11/news/mn-8349_1_u-s-secret-service
---



The New York Times

-- January 13, 1985


AROUND THE NATION



Counterfeit $100 Bills Mailed to Floridians


ORLANDO, Fla., Jan. 12— Plain brown envelopes full of $100 bills are turning up in residents' mailboxes in central Florida, according to Federal agents, who say the money is counterfeit.
"The bills are all being mailed out of Inglewood, Calif.," said Donald A. Stebbins of the Orlando office of the United States Secret Service.




"They contain no advertising literature, no note, no return address, nothing!"




Mr. Stebbins said 12 people had reported receiving 90 of the counterfeit bills since the first report on Monday. He said the recipients were of varying ages and received their


income from diverse sources.




He said counterfeit $100 bills were passed in Orlando last month. Richard Wayne Gibson of Winter Park, Fla., a retired man, has been indicted by a Federal grand jury in that case.



http://www.nytimes.com/1985/01/13/us/around-the-nation-counterfeit-100-bills-mailed-to-floridians.html